Motto
Our firm's roots extend to the year 1931 when Late D.C. Dutt laid its foundation with the object of providing clients with the highest quality of legal counselingefficiently, effectively and at a reasonable cost. Our founder, Mr. D.C. Dutt always epitomized that our firm is not only a law firm dedicated to its clients but also an institution where both lawyers and clients get opportunity to learn and grow their horizon. Apart from being an authority on various subjects of law, he was associated with various philanthropicwork for the poor and played key role in promoting education to the under privileged children. The theory of cost management as propounded and implemented by our founder with every client was very simple:" to make relation with a client that lasts for long and manage their costs as though it were our own".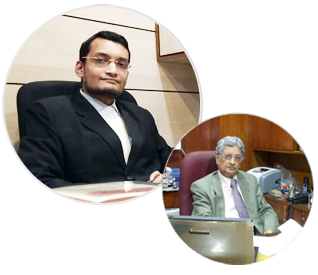 To provide all clients with balanced, practical and independent advice in plain language;
To deliver success to our clients;
To remain approachable at all times;
To see that our clients get due and proper services from our experienced panels of lawyers, solicitors, associates and staffs,
To analyze the law, and then applying it to the facts of our client's problem;
To be competitive in our fees whilst providing advice of the highest quality.
To be cordial all along while dealing with their cases.
To see that clients interests are properly safeguarded and protected
Keeping in pace with the change in the world scenario, we have taken all possible steps to make ourselves updated, techno-savvy, innovative, and approachable by our clients in the most convenient and cost effective manner. Apart from all attorneys and paralegals having computers at their desk, they also have access to the wealth of information available on the Internet. We use up-to-date technology to help us quickly respond to our clients' needs.

Our dedication to client service is the key to our firm's achievements, which have been a matter of pride in the legal fraternity. We believe that the peace of mind to the client comes only when experienced lawyers like the ones we have one goal – doing what is best for the client.
Our USP